Goodsense Passenger Stair advantages:
STB44 passenger stair is a kind of special ground support equipment to ensure comfortable embarkation of passengers aboard the plane. Different from the tow tractors, the passenger stair is only used to embark the passengers.
Product Highlight:
Large span supporting, good stability, multiple protection and emergency measures,
Adopt wide view glass window in both front and back for safe driving and large angle observation
Advanced hydraulic technology ensures the stable performance and low failure rate.
High quality material for the platform structure
Flexible structure for different aircraft doors.
General

Model

STB44

Power Type

Electric

Service Weight

kg

7500

Overall Length

mm

6650

Overall Width

mm

2240

Height

mm

3400

Wheelbase

mm

3000

Travel Speed (No Load)

km/h

30

Wheel Thread (F/R)

mm

1730/1730

Max Load Capacity

6000KG/80 persons

Front Platform Load Capacity

750KG/10 persons

Mid Platform Load Capacity

600KG/8 persons

Fixed Ladder Load Capacity

2550KG/ 34 persons

Scroll Ladder Load Capacity

2100KG/ 28 persons

Front Platform Height (extended)

mm

4400

Front Platform Height (Lowered)

mm

2200

Front Platform Width

mm

1990

Stair Width

mm

1290

Stair Title Angle

degree

35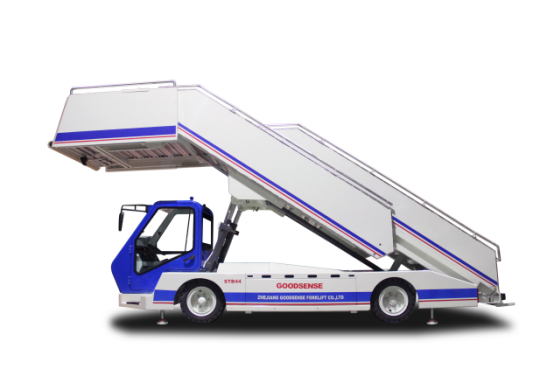 Application Area:
1.Airport
If you have any other questions,please contact us directly.Our forklift are all with high quality,and you can choose any other engine to equip.It can be produced according to your idea.And we invite you to visit our factory.