28-33 ton forklifts, all the main key parts are supported by internationally renowned manufacturers. Excellent performance, reliable and durable. High security, product appearance calm atmosphere, simple and neat.Widely used for ports, railways, steel and other heavy working conditions industries.
1.Adopted European technology, forklift reaches EN1459; iso15018 standard, high quality and safety.
2.VOLVO TAD750VE engine, Emissions comply with EPA 3 and EU III requirements: High performance, low fuel consumption, low speed with high torque, and large reserve power.
3.Germany ZF three-stage power shift gearbox. Using the most advanced TCU microelectronics control gearbox proportional operating valve,to achieve smooth and automatic flat shift. Fault display and convenient diagnostic device socket. Simple maintenance and repair.
4.The electrical system implement the latest international, national and industry standards. It use seat-aware system, which improve the operation norms and safety. Advanced CAN bus communication system. High reliability, good anti-interference; Through the CAN controller to make collection of the engine, gearbox, vehicle all kinds of sensors, pressure switches, fault and other information,and show on the LCD screen. So that the operator can more visually view the various parameters of the forklift,and also other fault display.
General

Model

FD250

FD280

FD330

Power Type

Diesel

Diesel

Diesel

Load Capacity

kg

25000

28000

30000

Load centre

mm

1200

1200

1200

Tyre

Tyre

Pneumatic Tyre

Pneumatic Tyre

Pneumatic Tyre

Front Tyre

14.00-24-32PR

14.00-24-32PR

14.00-24

Rear Tyre

14.00-24-32PR

14.00-24-32PR

14.00-24

Overall Dimension

Lift Height

mm

4000

4000

4000

Fork Size

L×W×T

mm

2440×250×110

2440×250×110

2440×250×110

Mast Tilt Angle

F/R

.

5/10

5/10

5/10

Mast Lowered Height

mm

3890

3890

3890

Mast Extended Height(with backrest)

mm

6020

6020

6020

Length to face of fork(Without fork)

mm

6660

6660

6660

Overall Width

mm

3040

3040

3040

Overhead Guard Height

mm

3330

3330

3330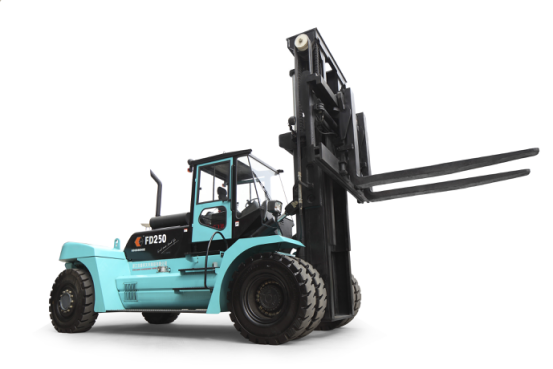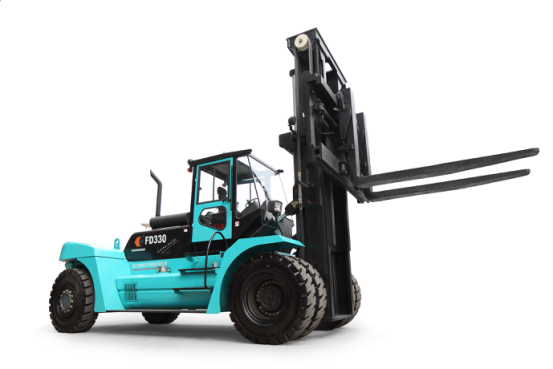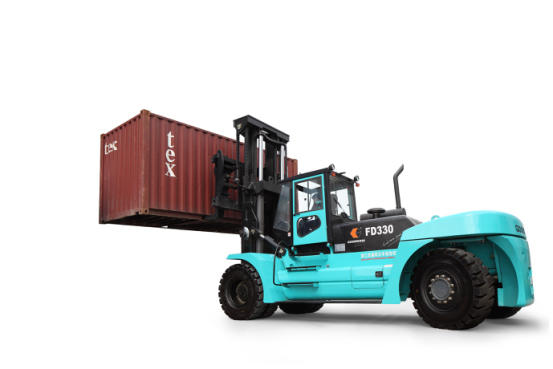 Application Area:
1.Warehouse
2.Port
3.Factory
4.Distribution Center
5.Logistics
If you have any other questions,please contact us directly.Our forklift are all with high quality,and you can choose any other engine to equip.It can be produced according to your idea.And we invite you to visit our factory.